Jacksonville Property Management Blog
Landlord Guide to Security Deposits | Jacksonville Property Management Education
08-24-2016
Wanda
Security Deposits
08-24-2016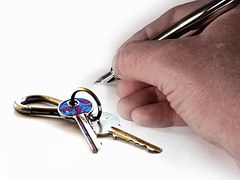 Florida landlords need to be very careful when it comes to handling the security deposits paid by their tenants. You need to know how much to charge for security deposits, where to hold it, what you can use that deposit for, and how quickly you need to return it at the end of the lease period. If you don't have any experience with security deposits, talk to a Jacksonville property management company. Otherwise, you're taking on a lot of unnecessary legal and financial liability.
How Much to Charge for Security Deposits
Most landlords charge the equivalent of one month's rent when they are collecting a security deposit. If you have a tenant with pets, or your screening process has revealed that this tenant is more of a risk because of poor credit or property damage issues in the past, you might want to charge a little more. There is no limit to what you can charge according to Florida law, but don't make the deposit so high that you discourage otherwise good tenants from renting your property.
Holding the Security Deposit
You are required to hold the security deposit in a Florida bank, separate from your other funds. You cannot let the tenant's money co-mingle with your own, and you cannot use those funds for your own purposes. If you hold the money in an interest-bearing account, you need to report it to the state monthly and pay the accrued interest to your tenant annually and at the end of the lease term.
Security Deposit Timelines
When the tenant leaves your property in excellent condition and you plan to return the full security deposit, you need to do that within 15 days of the tenant moving out. If you're going to keep some of the deposit to pay for damage or repairs, you'll have to send the tenant written notification of that intent within 30 days of the tenant moving out. Explain why, and provide a detailed accounting. If you do not pay attention to these timelines and requirements, you will have to give back the full deposit, regardless of the damage that was left. This is an area where property management in Jacksonville, Florida can

help you. If we fail to manage the security deposit return properly, we will pay it back to the tenant so your own funds are protected. As experienced property managers, we handle security deposits and tenant disputes all the time, so we're confident we'll get it right.
If you have any questions about Jacksonville property management or how to collect security deposits, please contact us at Heth Realty. We'd be happy to tell you more.


Mastering the Art of DIY Home Inspections
Buying Off-Market Properties
The Real Estate Language
Finding your dream Home
The Art of Home STaging
Selling a home
Safety
Buying a new home
Ways a Fence can Enhance Your Outdoor Space
Warning Signs You Need a New Real Estate Agent
Biggest Benefits of Selling Your Home Discreetly
Buyer Remorse
6 projects that can ruin your home's value
Key Things to Negotiate When Buying a Home
Curb Appeal
Moving to Jacksonville
Buying a House
Renting with Roommates
7 Easy Rental Upgrades
Retire in Jacksonville, FL
Nursing Homes in Florida
Why Jacksonville is Perfect for Young Professionals
Pets in a rental property
Fall Maintenance Tips
Good Property Manager
Rental Property Renovations
Furnished vs. Unfurnished Rentals
Prevent Tenant Damage
Tips for Landords
7 Reasons Why Renting Could be Better
Attract Quality Tenants
How Sober Living House Can Add Value to a Neighborhood
Tenant-Proof your rental
How to Maintain a Good Relationship With Your Tenants
Best Long Distance Moving Companies
7 Best Long-Distance Moving Companies
Top 6 Jacksonville Area Suburbs for Young Families
House Hunting Tips after you Retire
Why Jacksonville is one of the best places to live in the US
Tips for Long-Distance Apartment Hunting
Most Popular Jacksonville Neighborhoods
6 signs it's time to replace your HVAC system
COVID 19
Property Management Education
Rental Property Maintenance in Jacksonville
Landlord Tenant Law
Tenant Eviction
Rental Maintenance
Rent Collection
Security Deposits
Setting the Right Rental Price
Getting Rent Ready
Company
Mastering the Art of DIY Home Inspections: What Every Buyer Should Know
Buying Off-Market Properties
The Real Estate Language; Key Terms and Concepts Every Homebuyer Should Know
The Art of Home Staging: Transforming Your Property for a Quick Sale
Tanya Douglas
Tonya Douglas
Emma Williams
Nessa Brown
East Coast Haul
Old Republic Home Warranty
Wanda