Jacksonville Property Management Blog
What is the Eviction Process in Jacksonville, FL? Property Management Education
12-28-2016
Tenant Eviction
12-28-2016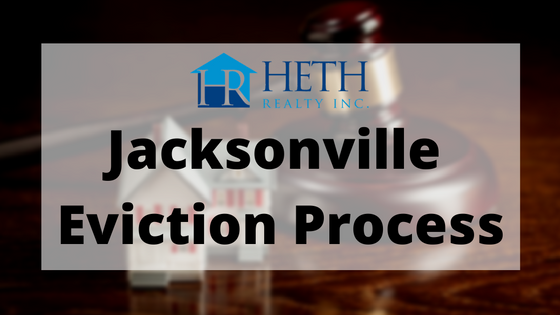 Your best chance at avoiding tenant evictions is to thoroughly screen your applicants so you are sure to place a resident who is responsible and has never been evicted before. However, even good tenants can run into financial problems that may cause them to stop paying rent. The eviction process in Jacksonville, Florida is fairly straightforward. However, you must follow it carefully or risk spending more time and money than is necessary.
Serve a Three-Day Notice
As soon as rent is late, you should try to contact your tenant to find out if there's a problem. Don't waste too much time chasing your tenants down, however. Immediately serve the Three-Day Notice so you don't stall the eviction process. The notice must state the amount that is owed, and the date that it is due before further action is taken. Serve this to your tenants directly, post it on the door, or send it via mail. If you send it by mail, you must add five days before you can move forward.
Filing a Complaint in Court
It's possible that your tenants will pay what they owe within that three-day period. It's unlikely that they will vacate the residence. If you don't hear from them at all, your next step is to file for the eviction in court. You'll need to go to the courthouse in the county where your rental property is located. You'll get a hearing date, and the tenant will be served with a copy of your complaint. The tenants will have five days to respond to that compliant, and then both parties will show up for the eviction hearing. Make sure you bring all your documentation to that hearing, including the lease, your Three-Day Notice, and any accounting records that demonstrate what is owed.
Removing the Tenants
If you can prove that your tenants are in violation of their lease, the court will set a date that the tenants need to vacate the property. At that point, you can receive possession of the home, and begin getting it ready for new tenants. Sometimes, tenants don't leave by the required date. In that case, you'll need to contapixact the sheriff to physically remove the tenants and their belongings.
A Jacksonville property management company can help you navigate this legal process and prepare you to find and screen a better tenant. If you have any problems with tenants who aren't paying, or questions about how to evict, please contact us at Heth Realty.


Mastering the Art of DIY Home Inspections
Buying Off-Market Properties
The Real Estate Language
Finding your dream Home
The Art of Home STaging
Selling a home
Safety
Buying a new home
Ways a Fence can Enhance Your Outdoor Space
Warning Signs You Need a New Real Estate Agent
Biggest Benefits of Selling Your Home Discreetly
Buyer Remorse
6 projects that can ruin your home's value
Key Things to Negotiate When Buying a Home
Curb Appeal
Moving to Jacksonville
Buying a House
Renting with Roommates
7 Easy Rental Upgrades
Retire in Jacksonville, FL
Nursing Homes in Florida
Why Jacksonville is Perfect for Young Professionals
Pets in a rental property
Fall Maintenance Tips
Good Property Manager
Rental Property Renovations
Furnished vs. Unfurnished Rentals
Prevent Tenant Damage
Tips for Landords
7 Reasons Why Renting Could be Better
Attract Quality Tenants
How Sober Living House Can Add Value to a Neighborhood
Tenant-Proof your rental
How to Maintain a Good Relationship With Your Tenants
Best Long Distance Moving Companies
7 Best Long-Distance Moving Companies
Top 6 Jacksonville Area Suburbs for Young Families
House Hunting Tips after you Retire
Why Jacksonville is one of the best places to live in the US
Tips for Long-Distance Apartment Hunting
Most Popular Jacksonville Neighborhoods
6 signs it's time to replace your HVAC system
COVID 19
Property Management Education
Rental Property Maintenance in Jacksonville
Landlord Tenant Law
Tenant Eviction
Rental Maintenance
Rent Collection
Security Deposits
Setting the Right Rental Price
Getting Rent Ready
Company
Mastering the Art of DIY Home Inspections: What Every Buyer Should Know
Buying Off-Market Properties
The Real Estate Language; Key Terms and Concepts Every Homebuyer Should Know
The Art of Home Staging: Transforming Your Property for a Quick Sale
Tanya Douglas
Tonya Douglas
Emma Williams
Nessa Brown
East Coast Haul
Old Republic Home Warranty
Wanda